Features about the Shopping Cart
Some details you may need to know about the cart:

1. Membership is free! It's a feature of the software that we can't change. It is useful if I should need to call you about your order.

2. You have to join to shop.

3. You have to choose a pick up location in order to shop.

4. You can change your pick up location anytime you like.

5. Pick up locations have open and closed periods of time of shopping. Each location is open to shop for one week. Shopping ends 8pm the night before you pick up your order. Example: Good Health Herbs pickup is Friday at 12:30pm. You can shop until 8pm Thursday the day before. Then the buying page will close and not allow anything in the cart. The buying page will re-open at 6am Friday so that shopping may occur for the next week until Thursday.

6. You can pay with pay pal, debit or credit cards. It appears to be all paypal; however, when checking out there is an option to use your debit/credit card instead.

7. Be sure to use the "view details" or "more sizes available" button under the products to see what we have in stock.

8. We have included the farm as a drop site. Place your order and then give us a call and let us know when you are coming. Disregard the pick up day and time shown (farm pick up only). It's a required field I have to use. We will have your order ready for pick up on the farm whenever you call and ask us to.
FRESH EGGS ANYBODY?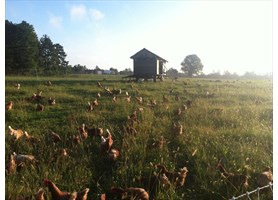 When we say fresh, this is the imagine that comes to my mind, how about yours? This fantastic picture captured by Farmer Rich shows our chickens foraging for all the yummy natural things they love. This is why our eggs are so good! This is why our eggs sell out so quickly!

We will have eggs in the shopping cart more frequently now that Spring is here and the girls are more productive.